God and his Word Anchors Us In Unsettling Times
By Cara Ray on Jan 18, 2021
I have a love/hate relationship with my phone.
I have the latest Samsung model, and I picked it because it was pretty and has this cool little stylus. I'm a simple girl at heart. It does all kinds of fancy things. Ironically, the least sexy of all its features is that it actually makes phone calls. But who cares about that these days?
It's crazy how much I depend on this device, and how it's practically connected to my body most of the day. My life is on that device. It's equal parts of benefit and distraction all at the same time.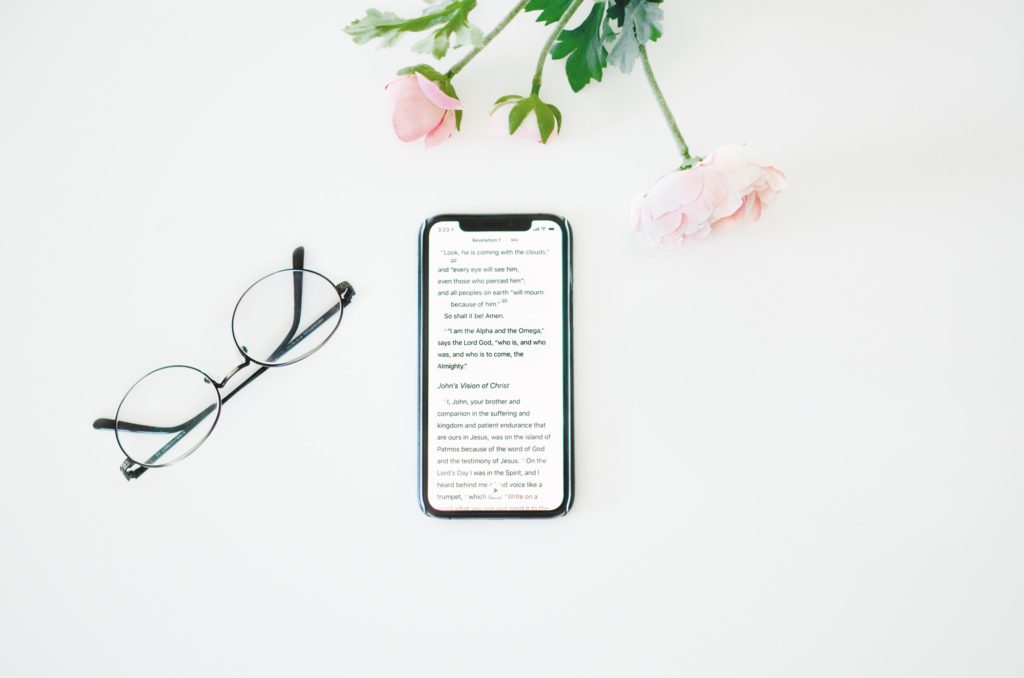 Each morning, I have my routine time in the Word, and it refreshes my soul. I look forward to opening the word and discovering new truths. Truly the Lord meets with me there, and I love it!
But soon after I close my Bible I pick up my phone and start doom-scrolling. It's a bad habit, I know. But this incessant desire to know what's going on in the world can take me on a roller coaster ride of emotions. This device is like a window into the world and as I watch what's happening unfold, I can go from being riled up, ticked off, grief-stricken, to flat-out worried, all in a manner of minutes. It's exhausting.
Does that sound familiar?
Our phones may be a window, but how we view and interpret what we see through that window is an entirely different issue. As the events in our nation have unfolded in recent weeks (and months), I've tried to understand what's happening. My views aren't really important, and you and I may disagree on how to interpret those things, but I think we can all agree what's going on is downright distressing. And in the end, when making sense of what's happening is above my pay grade (which it usually is), I want my Christian worldview to inform the way I see it.
While much can be said about creating disciplined media habits, and the need to unplug and disconnect, the truth is the world is rapidly changing, and we (I) have to have a framework for our media and news consumption.
A Framework for the Nasty Now and Now
As Christians, we are in the world, but not of it (John 17:14-15). We must fight to find a balance between being informed without being engrossed, and that might look different for each of us. Finding that balance gives us the opportunity to not only preach truth into our own hearts, but also to those who are distressed around us.
Yesterday, our pastor reminded us that our willingness to live on mission for Christ is always met with the tension of living in the "now and not yet." We know that someday we'll live in the sweet by and by, but right now we're in the nasty now and now.
The nasty now and now constantly reminds us that this is not our home.
Strangers in a Strange Land
Paul, writing from a dank Roman prison, understood this better than we ever will. From his physical surroundings, to the hostile political climate he lived in, he was keenly aware of how much he didn't belong. Awaiting his possible execution he said, "Our citizenship is in heaven, and from it we await a Savior, the Lord Jesus Christ" Phil 3:20.
Our longing for this world to be made better, and more just are reminders that we weren't made for it. Our hearts long for our homeland — heaven.
We are strangers in a strange land, and our dual-citizenship means we can keep a lighter grip on what's happening here and now.
But even as I preach these truths to my own heart, I admit I've struggled to keep this light grip.
Maybe you're like me, and you've remained silent because you don't want to tip your hat to what you believe.
But when the rubber meets the road you really really care about what's happening in your temporal earthly home.
You care about election integrity and results.
You treasure your first amendment rights.
You're concerned about what all the repercussions this fallout will bring for your children and grandchildren.
You're distressed (but not surprised) when you increasingly see good being called evil, and evil being called good.
You can feel the political tension rising, and if history tells us anything, those tensions don't just fizzle out…they usually explode.
Friend, I wish I could make sense of it all, but I just can't.
So when we can't make sense of things, what do we do? We have to go back to what we know with absolute certainty.
What Do You Know that You Know that You Know?
In other words, what do you know down to your core?
If you've re-watched a suspenseful movie, you can relax because you know the ending.
In the same way, we might not know how each scene of this particular movie unfolds, but we do know the ultimate ending. Jesus wins, we win with him, and someday we'll be with him forever. Amen. Lord, come quickly!
But here's what I also know…
Sin and Satan are real.
There is a very real spiritual battle being waged right now (and always). Why did Satan tempt Jesus by offering him the kingdoms of the world in exchange for his worship (Matt 4:9)?
Because they were his to give. He has temporary control, and this world lies under the sway of his control (1 John 5:19). Let's not fool ourselves that this is just the way it is, and mentally check out.
The battle is real, our enemy is real, but the good news is he's a defeated foe.
"Be sober-minded; be watchful. Your adversary the devil prowls around like a roaring lion, seeking someone to devour" (1 Peter 5:8).
Jesus has already won!
"He disarmed the rulers and authorities and put them to open shame, by triumphing over them in him." Col 2:15
No matter how loudly Satan barks, he's on a leash. Jesus was victorious at the cross and we're more than conquerors with him.
"What then shall we say in response to these things? If God is for us, who can be against us? He who did not spare his own Son but gave him up for us all, how will he not also along with him, freely give us all things?"
"No in all these things we are more than conquerors through him who loved us." (Rom 8:31-32, 37)
God and his Word are true and don't change.
We can't trust the news, but we can trust God and his word.
"God is not a man, that he should lie, or a son of man, that he should change his mind. Has he said, and will he not do it? Or has he spoken, and will he not fulfill it?" (Number 23:19).
"Jesus Christ is the same yesterday and today, and forever." (Hebrews 13:8).
When everything around you is changing, go back to what doesn't change: God's word!
Jesus is coming soon!
It's ok to skip ahead to the end of the movie and remind yourself again and again, that Jesus is coming again. And that return gets closer every second. Hallelujah!
"Behold I am coming soon, and my reward is with me, to give to each one according to what he has done. I am the Alpha and the Omega, the First and the Last, the Beginning and the End" Rev 22:12.
Be busy about kingdom business.
Our politics mean nothing in light of eternity. Someday the books will be opened and sheep and the goats will be separated. Will it amount to a hill of beans if we won an election, or we converted a few to our side of the aisle? Obvious answer, NO!
"Therefore go and make disciples of all nations, baptizing them in the name of the Father, and of the Son, and of the Holy Spirit." Matthew 28:19.
In our own and various ways, we can all be a part of this kingdom building.
Keep your eyes on Jesus.
For all the times Peter royally screwed up, everyone knew he loved Jesus deeply, and was willing to take great risks. He was the only disciple with the courage to ask Jesus to call him out of the boat and onto the water. With his eyes fixed on Jesus, the size and swell of the waves didn't matter. But once he took his eyes off of Jesus he began to sink.
"Come," said Jesus. Then Peter got down out of the boat, walked on the water, and came toward Jesus. But when he saw the strength of the wind, he was afraid, and beginning to sink, cried out, "Lord save me!" (Matt 14: 29-30).
I feel like Peter so often. My eyes get fixed on something that distracts me from him and I immediately begin to sink.
For all that I don't know, there are some things I can state with absolute certainty.
I know that I know that I know, God is sovereign and he's working all things together for his glory both in the world and in us. When the wind and waves undoubtedly kick up, let's remind ourselves and each other again that God's got this.
"There is not a square inch in the whole domain of our human existence over which Christ, who is Sovereign over all, does not cry, Mine!"

-Abraham Kuyper
Jan 18, 2021 | Holy Leisure Posts