How to Move Forward In Faith, Despite Your Doubts
By Cara Ray on Mar 23, 2021
The 115° Phoenix heat wasn't the only thing making us sweat the day we pulled into our driveway for the first time.
Our trucks weren't even unloaded yet, when the weight of what we had just done began to sink in. There was no turning back now.
We had either made the biggest leap of faith in our lives, or we had seriously misread the Lord's leading, and we were headed toward financial doom.
We were really good at selling our house. So good in fact, that we did it three different times.
But we weren't so good at closing on our house. Like little toy soldiers, each contract fell through one after the other. Now we were on contract number four, and there were still two weeks left before closing.
Our money was tied up in the house, and if history repeated itself and this contract fell through, we saw no other option but bankruptcy.
It felt like we were contestants on "Let's Make a Deal."
If we got to walk through door number one, we'd survive and live happily ever after.
If we had to walk through door number two, we knew the Lord would be with us, but it was going to be a much less pleasant experience.
Faithful Next Steps & the God Who Sees
In Mark 6:30-44, we read the famous miracle of Jesus feeding 5,000 from five loaves of bread and two fish. It's the only miracle, aside from the resurrection, that all four gospel writers recount. It's significance is hard to overstate, both in Jesus' ministry, and also the faith-building of the disciples.
You're probably already familiar with this miraculous story, but I wonder if you've ever considered these two easy-to-miss details?
How the disciples moved past their doubts to look for food from the crowd
How Jesus lovingly addressed their doubt in the taking up of the leftovers
If you've ever been in a situation where all human solutions fall flat and you're desperate for the Lord to intervene, then you know how the disciples must've felt on that day.
What do you do in those situations?
The world will tell you to believe in yourself and follow your dreams. But the Bible says to believe in who God is.
Here are two Faith Steps you can take to crush your doubt.
FAITH STEP #1: Be Obedient, Even When You Don't Understand What God Is Doing
After hours of preaching, the disciples wanted Jesus to dismiss the crowd, so they could get dinner. (Can you really blame them for wanting Jesus to send the crowd away?) They were exhausted coming off their own missionary journeys, and a full day of preaching with Jesus.
But the ever-compassionate Jesus, didn't see the crowd as a nuisance, but as sheep without a shepherd.
He said to his disciples, "You give them something to eat" (Mark 6:37).
Wait. What?
Have you ever felt like what God was asking you to do seemed humanly impossible?
You want me to do what, Lord? Go where? Talk to whom?
The disciples must've felt that way too.
First, Philip acknowledged that even a year's salary wouldn't cover the cost to give everyone a little (John 6:7).
And Andrew had found one boy with five barley loaves and two fish, but questioned, what difference that would that make among so many people (John 6:8)?
Even in their doubt, they took the next steps of obedience when Jesus told them to go and see what food they could find.
Isn't it good news that Jesus can take what we offer him, even if it's a measly five loaves and two fish, and he can bless it and multiply it for his glory?
It's not about having enough faith in faith. It's about the object of our faith, God himself.
FAITH STEP #2: Pay Attention to the Ways God Speaks to You in Your Doubt
The math didn't add up. Everyone knew 5 loaves and 2 fish wasn't enough for 20,000 people (including women and children) to have even a little.
But Jesus took their obedience, and meager resources, and multiplied them beyond human comprehension. And when they had all eaten their fill, they took up 12 baskets of leftovers.
Have you ever wondered about the significance of the number of baskets of leftovers?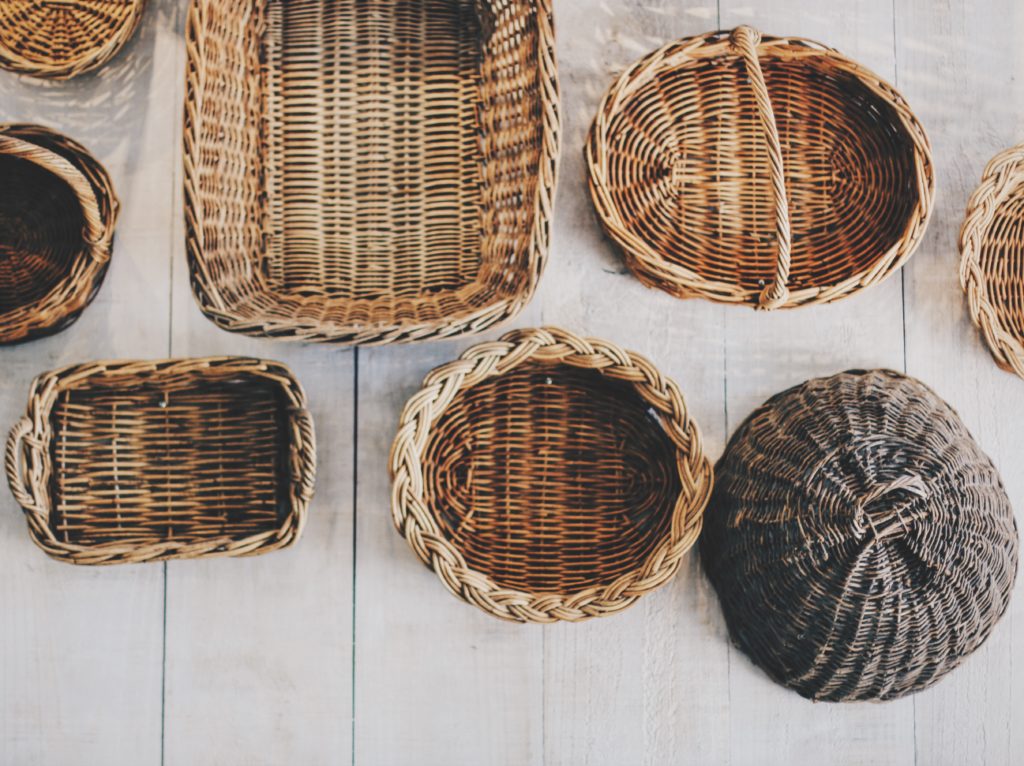 Jesus was addressing each disciple personally, and was in essence saying, "I'm providing for you. I'm taking care of you. Both your physical needs, and your intellectual doubt."
I am the bread of life, and if all you have is me, then you have all you need.
Is Jesus enough for you, even in your doubt?
We have a personal Savior, who not only sees what we do, but why we do it.
So even in our smallest acts of faith, he meets us where we are, and gently reminds us of who he is.
Jesus met all the physical needs of the crowd that day.
But he met the deeper spiritual needs of the disciples in reassuring them that faith placed in him, was well-placed faith.
Planting in Faith & Plucking Weeds of Doubt
Elisabeth Elliot said, "Don't dig up doubt where you planted faith."
We planted in faith in Phoenix, and two long weeks later, we reaped a harvest of a closed contract.
Looking back, we were a bit like the disciples as we didn't know how God was going to act on our behalf, but we knew God was going to do something.
In God's economy 5+2 equals more than enough + and an abundance of leftovers.
So be assured, your little faith + your little resources equals more than enough for God to do his work in and through you…for his glory.
If doubt overshadows you today, and your situation seems dire, move toward him in faith. I can assure you, it's well-placed faith.
Cara
You can read more about Holy Leisure in the Gospel of Mark through these posts:
Making time to pray, when busyness and fatigue make it hardest to pray
Finding peace in the character of God, even in stormy seasons.
How to accept interruptions as an opportunity to love others.
Mar 23, 2021 | Devotionals