When I was in high school, I went on a ski retreat with my youth group. My friend Sarah had never skied before, and a very patient youth leader wanted to help teach her. After trying unsuccessfully to coach her how to ski, he decided to help her actually ski! So he got on his hands and knees and awkwardly pulled the tips of her skis back and forth across the mountain. 
Lean into the Mountain
Another skier, seeing them struggle, swooshed to a stop next to them. Casually, he called out, "Hey Sarah, just lean into the mountain." The advice clicked, and she took off down the slope leaving the rest of us in her snow dust.   
I still laugh when I think about that story.
"Just lean into the mountain," became a catchphrase for having an "a-ha" or "lightbulb" moment. All the components of learning how to ski made sense when Sarah learned how to lean into the mountain.
Similarly, when we hear stories, we have our own lightbulb moments as we see and apply truth to our lives. The more stories we hear, the more we 'lean into the mountain,' of how to live righteously.
We're Story-Shaped Creatures
Dan Taylor said, "Human beings are story-shaped creatures. We are born into stories, raised in stories, and live and die in stories. Whenever we have to answer a big question — who am I, why am I here, what should I do, what happens to me when I die? — we tell a story. The single best way of conceiving of faith, and of a faithful life, is as a story in which you are a character. Your life task is to be a character in the greatest story ever told. It is what you were created for." 
The Story of our Lives
Dan reminds us that connecting our own stories to the greatest story ever told is our life's task.
That's why I've written the ebook Paths of the Righteous: Psalm 23 in the Lives of Faithful Missionaries & Witnesses for Christ.
Paths of the Righteous tells the stories of great men and women of faith and how they experienced the personal care of the Shepherd as found in Psalm 23. Inside this short ebook, you'll learn from the stories of Amy Carmichael, Hudson Taylor, Corrie ten Boom, Gladys Alyward, Lillian Trasher, Nate Saint, and Mincaye.
And maybe most importantly of all, you'll look at your own life's story and see how the Good Shepherd has provided you with rest, comfort, provision, protection, and hope.
Lean into the Mountain of Faith
Thinking back on that ski retreat has reminded me that our walk of faith is a lot like learning to ski. Sometimes we know all the components of how to do it, but we still struggle and fall down. That's why we need people to encourage us, get down in the snow with us, and remind us to lean into the mountain.
It's my prayer that the stories inside Paths of the Righteous will not only inspire and encourage but help you lean into the mountain of faith. I pray it helps you see Psalm 23 at work in your life in a new way.
May we learn from their stories how to walk in the paths of these righteous saints.
I'm excited to offer you this ebook for FREE until August 12th, so don't delay! Click the image below.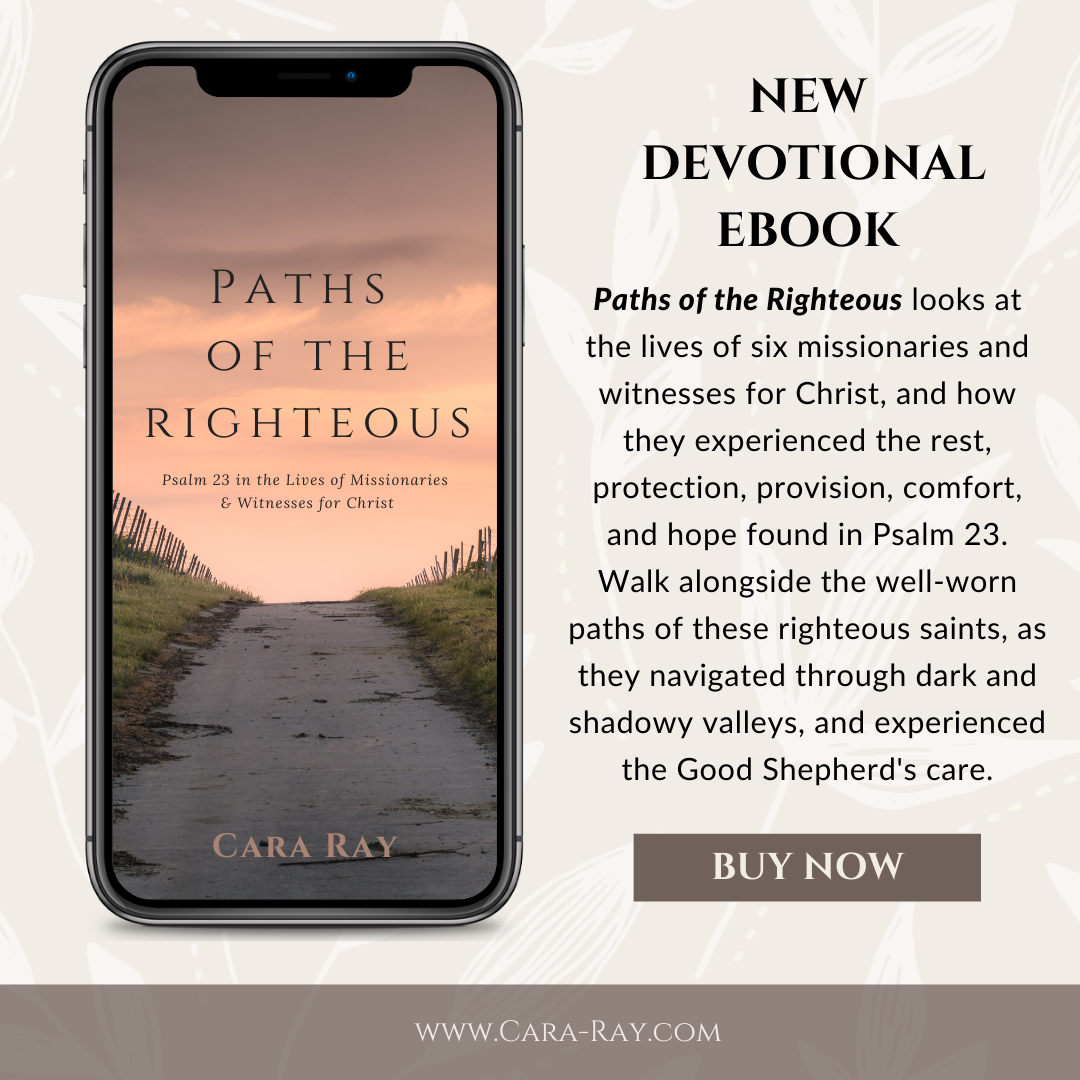 SDG,
Cara
P.S. If you feel it's worthy, would you please leave me a 5-star review on Amazon? Please feel free to share this offer on social media, or forward this post to a friend. xoxo