How Making Our Souls Happy Informs How We Work & How We Rest
By Cara Ray on Apr 28, 2020
I've been a little "restless" lately; longing for a vacation.
Maybe because I've been cooped up at home too long, and when you work from home, you end up working A LOT during a quarantine. I want a break!
Or perhaps because we didn't get to travel last summer when we were trying to sell our house, and move out of state.
For three months all we did was show our house, then clean our house, then show our house again, and then clean our house again. Seriously, it was the hardest summer ever.
Or maybe because I know that it's impossible to travel right now, so it's forbidden fruit and I'm obsessing.
But lest you think my longing for travel is just thinking about it.
Oh no…I've done virtual museum walkthroughs, and priced airfare to far off places I'll probably never afford. (Can we say escapism?)
While it's fun to distract myself with the fantasy of a vacation, the truth is I don't need a vacation to rest.
Rest is available to us today and everyday when we find our rest in Jesus.
Rest as a Regular Rhythm of Life
Let's return to our working definition of Otium Sanctum again.
Otium Sanctum is the pursuit of balance in life, an ability to be at peace throughout the activities of the day, an ability to rest and take time to enjoy beauty, an ability to pace ourselves.
We all know rest is important.
Rest allows our bodies to heal, our minds to recharge, and our spirits to recalibrate.
It is so important that the Lord even instituted a 6:1 work to rest ratio for our week starting all the way back in Genesis 2.
Certainly when he rested on the seventh day of creation, it wasn't because he was tired or needed to take a nap.
But rather, he made a divine pattern for us to follow.
The Lord wants his beloved to work hard.
And he also wants us to rest.
Jesus taught, and practically demonstrated, how this was to be done in the New Testament too.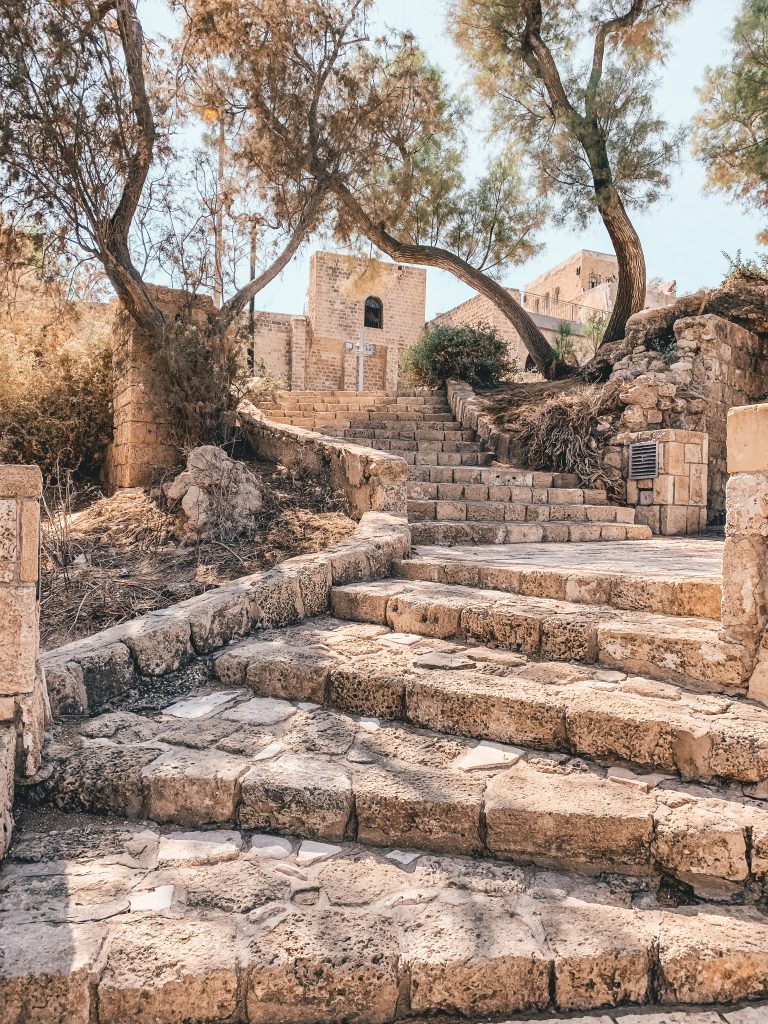 "The apostles returned to Jesus and told him all that they had done and taught. And he said to them, 'Come away by yourselves to a desolate place and rest a while.' For many were coming and going, and they had no leisure even to eat."
Mark 6:30-31
In Mark 6, Jesus pulled his disciples away from their work, right at the height of their success and made them rest.
It's interesting that the disciples had just returned from a short-term mission trip where they preached, healed, and cast out demons, and now the crowds were pressing in so hard, they couldn't even find the leisure to sit down to a meal together.
Have you ever known that sort of fatigue? The-to-your-bones kind of tired?
You've been up all night with a sick child, or a refuse-to-sleep child (maybe for nights on end)
You've been giving your heart, mind, and soul to a new business or charity effort
You've been taking care of everyone else's needs around you, and haven't had a chance to sit down and breathe, let alone eat a real meal?
Jesus knows what that's like.
When you think about it, he could've said, "Hey guys, let's not kill the momentum. Go preach in the next town, you're on a roll."
But instead he made them rest.
Rest isn't a luxury, but a real honest-to-goodness need.
And sometimes he needs to force us to do it.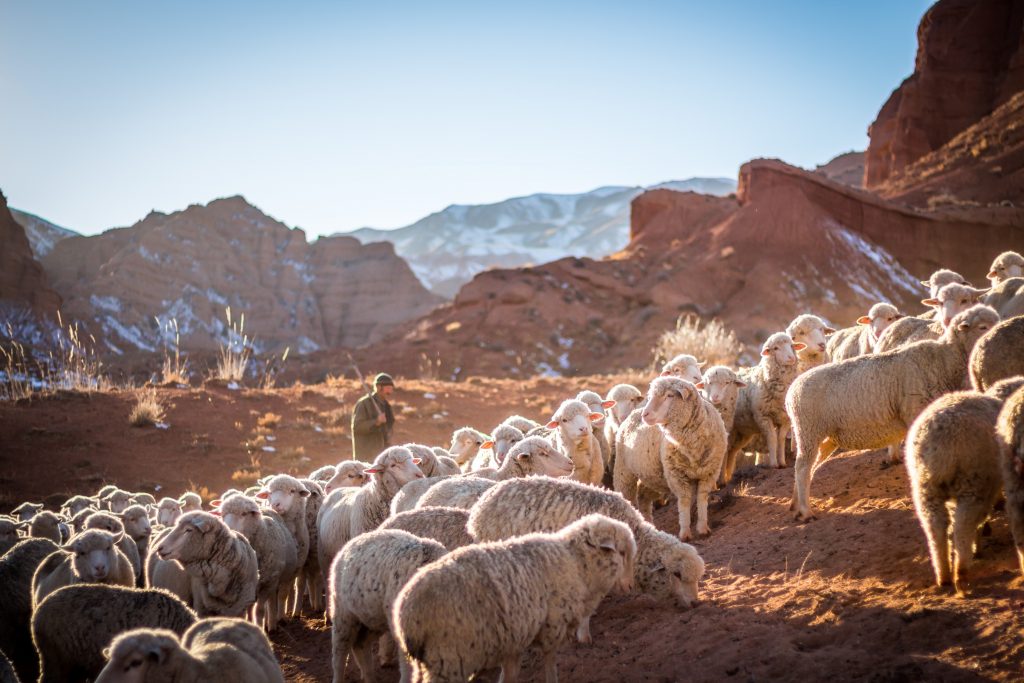 "The Lord is my shepherd, I shall not want. He makes me lie down in green pastures." Psalm 23:1
The Good Shepherd knows when his sheep must rest.
And he pulled his disciples off the front lines and made them getaway to be with him alone.
Rest Is An Act of Trust
We live in a culture that praises grind-it-out hustle.
As women (and especially as moms), we don't have to be climbing a corporate ladder, or conquering the world to wear our busy-ness as a badge of honor.
You may say to your friends…
"I've been so busy, I haven't been able to ________." (You fill in the blank.)
There are seasons of life and motherhood that are naturally busier than others.
And you're certainly in sympathetic company when you lament your over-extended schedule with a trusted friend.
Oh, how we all need those friends!
But even when the to-dos are as neverending as the laundry, we need to be reminded that our willingness to rest is an act of trust.
The Lord gave us a Sabbath to remind us that he set the pattern for work and rest.
Even if we could work 24/7/365, we couldn't keep the world turning.
But God does.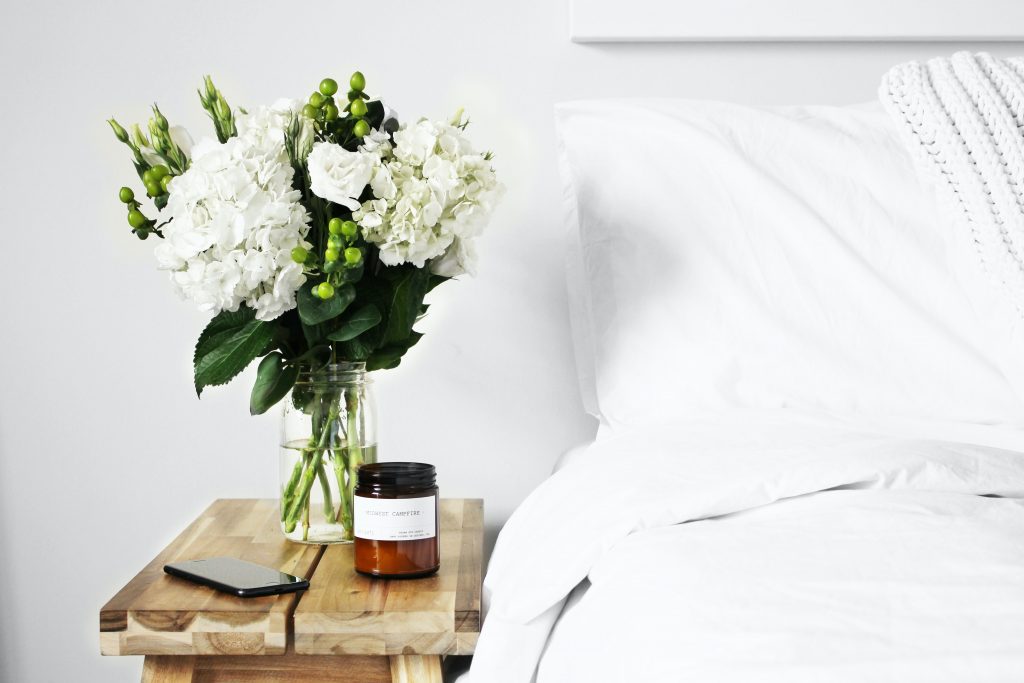 "In vain you rise early and stay up late, toiling for food to eat – for he grants sleep to those he loves."

Psalm 127:2
Have you ever wondered why we need to totally shut down for about 8 hours every night?
I mean…wouldn't we be amazing if we never needed to sleep?
What could we accomplish if we didn't need to sleep for about one-third of the day?
But God in his wisdom ordained it to be so to remind us that we are not God and we need him.
Every night when we go to sleep, we are reminded that it's not solely in our efforts that we take care of ourselves…we are dependent on him.
Even while we sleep, he is at work.
But Jesus replied, "My Father is always working, and so am I" (John 5:17 NLT).
Rest Provides for Spiritual Renewal
While I certainly wouldn't object to a vacation right now, I know I don't need one to find daily rest for my soul.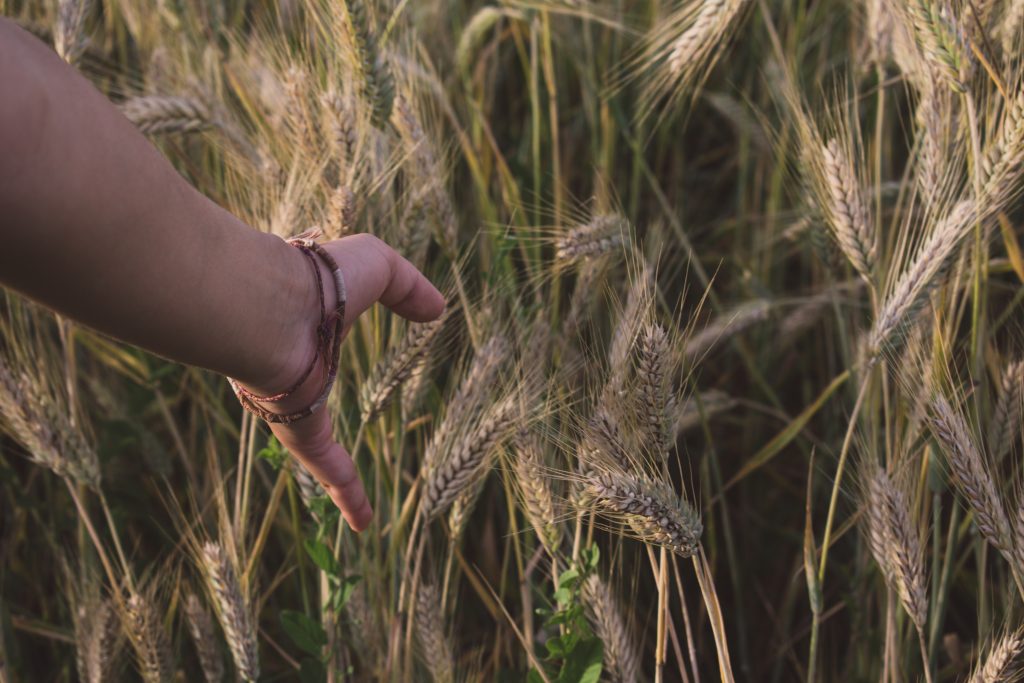 "Come to me all you who are weary and burdened and I will give you rest. Take my yoke upon you and learn from me, for I am gentle and humble in heart, and you will find rest for your souls. For my yoke is easy and my burden is light."

Matthew 11:28-30
Daily time in the Word is what I need to find rest for my soul.
Weary friend, are you finding that you don't have time to spend with the Lord because your plate is so full?
For most of my adult life, I've struggled to find a daily pattern of time with the Lord.
I would try to squeeze time in with the Lord between naps, or waiting in the car for pick up, or even when I was alone in the bathroom!
By God's grace in the past few years, I've realized time with the Lord isn't just a nice way to start my day…I've learned I need it like I need air.
(Trials and deep times of need will do that to you.)
How to Find Rest for the Rest of Your Day
"The first great and primary business to which I ought to attend every day is to have my soul happy in the Lord."

George Muller
Starting your day from a place of rest is not dependent on how well you slept the night before, or how jam-packed your schedule might be.
It helps to have a good night's sleep, and it's certainly wise to have some margin in your day, but when you don't it's especially important to find rest for your soul!
Jesus said to "Come to me, all you who are weary and burdened, and I will give you rest." (Matt 11:28)
Do we really believe that promise?
Does Jesus really provide the sort of rest and peace we need even on our busiest days?
I believe the answer is yes.
But we won't just stumble upon it.
We need to extend effort in order to rest. (Oh, the irony!)
If you've struggled to make a daily habit of spending time with the Lord, consider these ideas as a jumping off point.
I don't claim to be an expert on how to develop your own personal quiet time with the Lord.
I'm just a fellow-struggler, who's experiencing some victory in a hard-fought for territory in her life.
These are some of the strategies that have helped me not only be more consistent, but actually look forward to my time early in the morning with the Lord.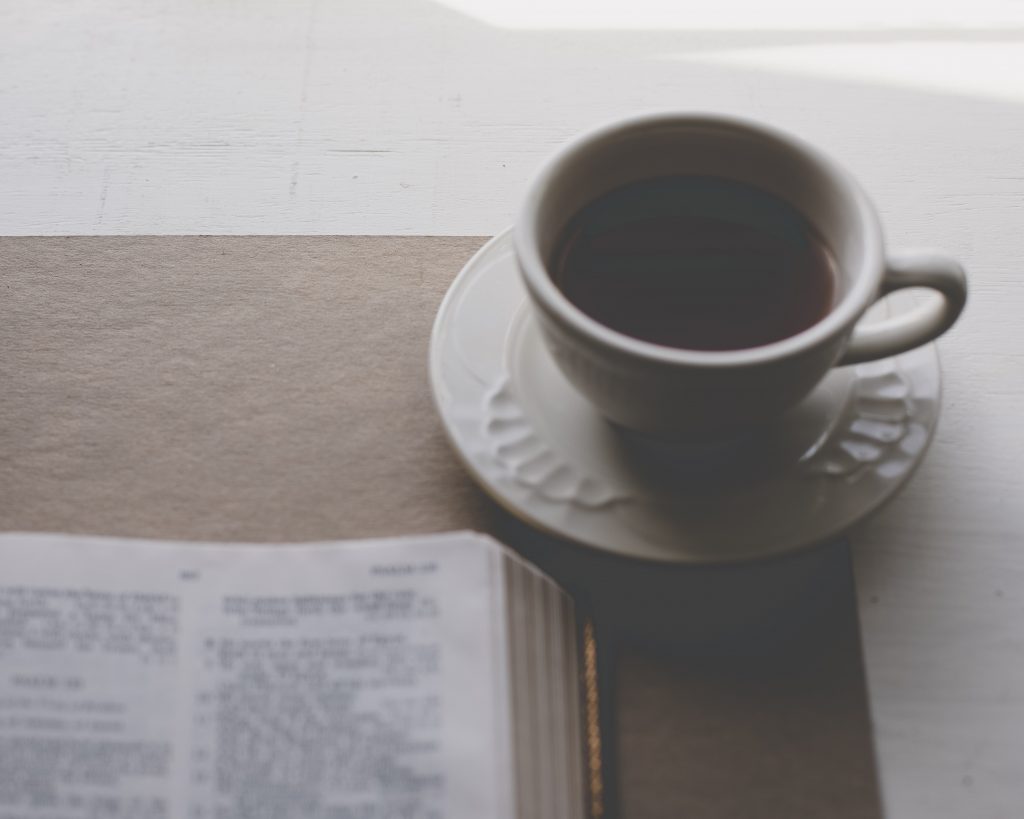 The night before:
Determine a comfortable spot where you'll read and pray tomorrow morning. Set your books in that spot waiting for you.
Set out a coffee mug for tea or coffee
Set your alarm for 30 minutes before you normally wake up.
Go to bed 30 minutes earlier.
The next morning:
Wake up when the alarm goes off. Don't hit snooze!
Fix your tea or coffee, and go to your reading spot.
Start with prayer. I often start by journaling my prayers, thoughts, and even just the random to-dos floating in my head.

Sometimes writing those random things down allows me to focus more on study.
Ask God to help you focus your heart and mind on him.

Determine what your reading schedule will be (here are some ideas)

You can start with a devotional reading
You can read the date in Psalms or Proverbs (i.e. if it's April 30, read Psalm 30 or Proverbs 30)
You can read a chapter of the gospels (Matthew, Mark, Luke, and John)
You can read a chapter from the Old Testament

Close your time in prayer.
That's it. Nothing too fancy.
Obviously, there are many ways you can structure your time, and what I do is fluid. It changes based on what I'm needing to focus on.
The point is to start somewhere and build a routine that works for you.
I believe, what you'll find as you include the spiritual discipline of prayer and study into your morning, is you'll find your soul is more happy and at rest in the Lord.
Not Rest From Work, But Rest In Work
Pursuing Otium Sanctum is about finding holy leisure in the sacred and the secular moments of your life, and to do this we need to practice resting.
We need daily rest to remind ourselves that we are not God and we can trust him to take care of us.
And we need to make our souls happy in God every day so that we can rest in his care through the ups and downs of every day.
We don't need to be on a beach with our toes in the sand to find real rest.
(Although, I'm still gonna dream!)
We can find rest in our work when we align our day and our heart with his.
It's not a magic formula.
It doesn't guarantee ease, happiness, or worldly success.
But it does mean the more we pursue him, the more we get to know him, and the more we know him, the easier it becomes to find rest in him.
His yoke is easy, his burden is light.
Let's find rest in that truth.
Please comment below…How are you incorporating 'rest' into your daily routine? What's working? What's not? I'd love to know!
Apr 28, 2020 | Holy Leisure Posts