The noonday sun was as relentless as the social reproach from the village women, but she was willing to endure the former, to avoid the latter. Balancing the stone waterpot on her shoulders, she set out on her daily trip to Jacob's well.
The well ran deep, and so did the resentment of the village women towards someone with her 'history.' She had learned that it was easiest to draw water when no one else would be there, even if that meant she had to go to the well at the hottest time of day.
This daily ritual was more than a necessity in her life, but symbolic of what it had become. Her empty waterpot was a reflection of her heart, and a heavy accessory she carried with her. The more she tried to find happiness in the arms (and beds) of the many men who had claimed to love her, the more she felt herself beginning to crack.
Her quest for happiness was much like the repetitive nature of going to the well. Her life had become a sad cycle of filling up with relationships that didn't satisfy, only to discover there was a hole at the bottom of her cistern. 
But on this day, when she drew near, she saw something she never expected, a Jewish man resting by the well. How odd for him to be found anywhere near Samaria, much less at a place where women usually congregated. 
Then he spoke to her and said, "Give me a drink."
Playing the cards she was dealt
Uncomfortable with his simple request for a drink, she began to play the cards she held in her hand. First out of the deck were her gender and race cards. How could Jesus talk to her, for Jews had no dealings with Samaritans, much less Samaritan women? But Jesus ignored her comment entirely as if those categories paled in comparison to her greater spiritual need. 
Then she played the historical and who-do-you-think-you-are cards, because Jesus' claim that he could offer her living water, sounded like he was making himself greater than their forefather, Jacob. But Jesus responded that while Jacob's gift of water offered temporary satisfaction, he offered an eternal fountain that never ran dry.  
He said to her, "Everyone who drinks of this water will be thirsty again, but whoever drinks of the water that I will give him will never be thirsty again. The water that I will give him will become in him a spring of water welling up to eternal life" (John 4:13-14).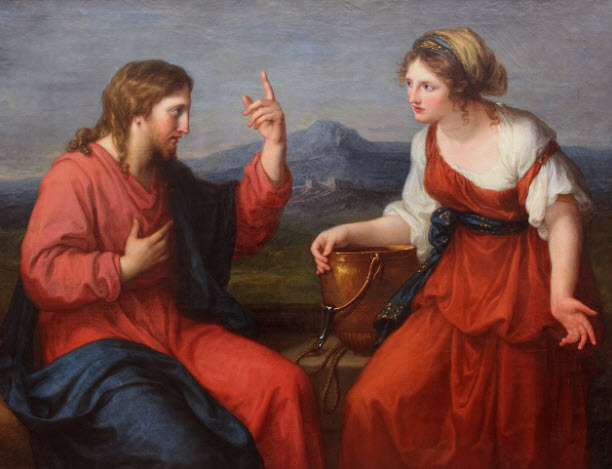 Jesus' card: "Go call your husband." 
Still unable to see the spiritual lesson he was teaching, she remained focused on literal water. She wanted living water if it helped her avoid the social reproach she endured every time she went to the well to draw. But in order to receive, she had to first see her spiritual need, which Jesus pointed out when he told her to go call her husband. 
Now the cracks in her carefully crafted façade began to show. This was a sore spot in her life, and the place where her many attempts (and failures) to find happiness was most obvious. She had been looking for love in all the wrong places, and somehow this man she had never met knew her whole sordid past. He knew she was living with a man who wasn't her husband, and that she had had five husbands before him.
Like a skilled surgeon who knew right where the problem lay, Jesus cut through all of the woman's rhetoric and pinpointed the precise point of her spiritual drought. Now with the focus on her immorality, she switched gears and played the last card in her hand: the religious one.
Equally amazed and uncomfortable by his knowledge of her life, she tried once more to divert attention away from herself and onto a current hot topic. Where was the best place to worship? Was it on this mountain, or that one? 
No cards left to play
No amount of card playing or sidestepping of the issue was going to rescue her from dealing with her sin. Jesus kept her on topic and reminded her that worship wasn't about the physical location of the body, but the spiritual location of the heart. He was seeking worshippers who would worship him in spirit and in truth (John 4:24). 
The truth was, she was a worshipper, but her worship was misplaced. She was chasing the fruit of worship apart from its source, God himself. Her cravings for happiness and fulfillment would never be found in the arms of men, but only in a right relationship with her Creator. She was not unlike the people of Israel to whom God spoke through the prophet Jeremiah,
"My people have committed two evils: they have forsaken me, the fountain of living waters, and hewed out cisterns for themselves, broken cisterns that can hold no water."  

Jeremiah 2:13
Leaky buckets welcomed
Her bucket was leaky, and she knew it. There was so much she didn't know, and maybe so much she knew she needed to change in her life. In a final effort to kick the ball down the field, she acknowledged that someday the Messiah would come and make all things clear.  
Then Jesus said to her, "I who speak to you am he." 

John 4:26
What grace for the woman wearing a scarlet letter!
The very first person Jesus ever revealed his identity to was not to the religious or social elite, but to an outcast Samaritan woman.
It's available to those who know their cisterns hold no water.  
"If you knew…"
At the beginning of their conversation, Jesus said, "If you knew the gift of God, and who it is that is saying to you, 'Give me a drink,' you would have asked him, and he would have given you living water" (John 4:10). 
Have you, like the woman, tried to drink from wells that offer temporary refreshment, only to still leave thirsty? Has visiting those wells become a burden, a place where you fill and fill and fill again, only to realize you have a broken cistern? Are you always striving and never acquiring what you want most? No matter what sins lie in your past, Jesus offers you an iron-clad 100% guarantee, that if you know, and ask, you will receive this living water. 
The woman brought her empty cistern to the well and left it there, empty. After encountering Jesus, she who had also been empty ran home full for the first time in her life. The social outcast became Samaria's first evangelist, and many believed because of her testimony. And Jesus, who was weary from his journey never did receive the drink he requested but was nourished with the secret food of doing his Father's will (John 4:32). 
This is the paradoxical, soul-thirst-quenching nature of living water. If you knew it's what your parched soul needed most, why wouldn't you ask for it?
"Come, everyone who thirsts, 
come to the waters;
and he who has no money,
    come, buy and eat!
Come, buy wine and milk
    without money and without price."
Isaiah 55:1
Come to the waters and drink deeply. You'll never be thirsty again.   
Cara
P.S. This is my 8th post in the series Taste & See. I invite you to check it out and read my other posts about the feasts that are ours at God's table.
P.P.S. Subscribe below to receive devotionals like this straight to your inbox.