How to Find Peace in the Midst of Your Storm
By Cara Ray on Mar 06, 2021
"Who then is this, that even the wind and the sea obey him?"
Mark 4:31
On March 18, 1990, two thieves disguised as police officers, broke into the Isabella Stewart Gardener Museum in Boston, Massachusetts, and pulled off the biggest art theft in history.
In a real life Thomas Crown Affair heist, the thieves brazenly removed thirteen priceless works of art from their frames.
They managed to make two trips to their car with the stolen loot, and then they vanished.
Among the stolen pieces was Rembrandt's only seascape, "The Storm on the Sea of Galilee." 
Rembrandt's masterpiece depicts the raging sea, a ship in danger of capsizing, and the panic of seasoned fishermen who believed they were about to die.
But how did they get there?
After an exhausting day of teaching, healing, and crowds pressing in on every side, Jesus and his disciples climbed into a boat to travel to the other side of the Sea of Galilee.
Jesus was emotionally and physically exhausted, and he fell asleep on a pillow in the stern of the ship.
A Great Windstorm Arose
The Sea of Galilee is a unique body of water because it sits below sea level and is surrounded by mountains. When the winds come down from the mountains, they create a whirlpool effect of violent and unpredictable water.
Even though many of Jesus' disciples were fishermen by trade, who undoubtedly had weathered many storms, this one was different.
Their battered boat was quickly taking on water, and they were certain they were about to die.
In their panic, I can imagine them shaking Jesus' shoulders to wake him up, as they cried out, "Teacher, do you not care that we are perishing?" (Mark 4:38).
They didn't ask him to do anything about the storm, nor would they have thought to ask.
At this point in the gospel story, Jesus was only a teacher to them. Maybe they expected him to grab a bucket and start bailing.
But Jesus did the unthinkable.
A Great Rebuke & A Great Calm
He rebuked the wind and said to the sea, "Peace! Be still! And the wind ceased, and there was a great calm" (Mark 4:39).
We've probably all experienced wind that suddenly stops.
But can you imagine the water falling and settling into place instantaneously?
Unlike the wave pool at the amusement park, that gradually increases and decreases the strength of the waves, this time the water didn't just settle down, it completely and utterly stood still.
The crisis was over and now the gravity of what they had experienced began to sink in.
Even Greater Fear
Relief and then an even greater fear filled their hearts.
For in that moment, they realized that more terrifying than the storm outside their boat, was God himself inside their boat.
"And they were filled with great fear and said to one another, "Who then is this, that even the wind and the sea obey him?" Mark 4:41
The disciples weren't yet sure who Jesus was, but a few chapters later, Peter got it.
Jesus asked him "Who do people say that I am?" Peter answered him, "You are the Christ" (Mark 8:29).
An Awe-some & Fear-some Reality
We love that the Lord can calm storms with a word, and we stand in awe at his power over creation.
But how can you rightly see God at work in the storms of your life, even if the waters are lapping over into your boat?
The questions Jesus asked his disciples apply to us too.
Why are you afraid?
Have you still no faith?
I think Rembrandt must've known something of the peace that comes to those who ride out life's storms with God in their boat.
Look a little closer at his painting.
There's an extra character among the twelve disciples in the scene that bears a striking resemblance to the artist himself.
Rembrandt pictured himself in the midst of the uncertainty of that stormy sea.
He had the advantage of knowing how this story would resolve. He looks at us as if to say, "Hold onto your hat. You're going to like how this one ends."
Friend, you may not know how long your storm will last, or what the result will be, but you can trust that the one who can command the wind and waves to "Be still," is greater than whatever you are facing.
No matter how fearsome the storm, with God in your boat, you have nothing to fear.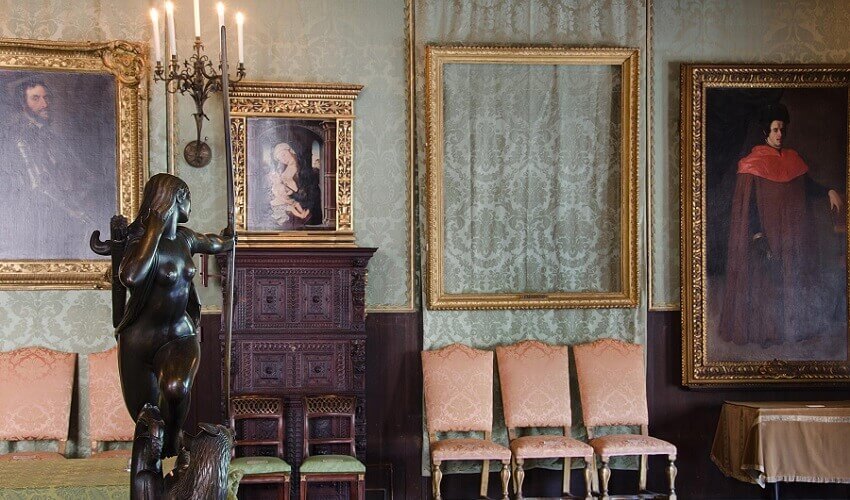 P.S. To this day, the art that was stolen from the museum remains missing. However, the museum reminds patrons of its absence with an empty picture frames that still hang in the original place.
P.P.S. If you're curious about holy leisure, I invite you to check out this free download From Quiet Time to Holy Leisure Time. It's designed to help you reframe this most important part of your day — time with the Lord.
Mar 06, 2021 | Devotionals